---

Workshops & Training

Teacher Resources

Humane Education

Awareness Activities

Equity & Diversity Quizzes

Printable Handouts

Multicultural Curriculum

Research Room

Social Justice Speeches

Social Justice Songs

Social Justice Quotations

Multicultural Links

Join Our Listserv

Contact Us
---

Receive Email Updates

Tell a Friend!

Awards & Recognition

About Paul C. Gorski
---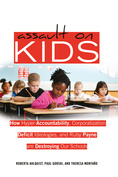 Check out Assault on Kids: How Hyper-Accountability, Corporatization, Deficit Ideologies, and Ruby Payne Are Destroying Our Schools, a new book by Roberta Ahlquist, Paul C. Gorski, and Theresa Montaño (Peter Lang, 2011).
"Sometimes I feel discriminated against, but it does not make me angry. It merely astonishes me. How can any deny themselves the pleasure of my company? It's beyond me." -Zora Neale Hurston
[Full Quotation Collection]


Check out the new book by Paul C. Gorski, Reaching and Teaching Students in Poverty: Strategies for Erasing the Opportunity Gap.

Read Building a Pedagogy of Engagement for Students in Poverty, Paul's recent essay in Phi Delta Kappan.

Visit our sister site, SoJust, to see our ever-growing collection of songs with social justice themes.

If you find this Web site helpful, I strongly encourage you to visit:

Rethinking Schools Online


Teaching for Change


National Assn. for Multicultural Education


International Assn. for Intercultural Education


Equity Alliance at ASU


Institute for Humane Education


White Privilege Conference


The Matrix Center


Teaching Tolerance


Education for Liberation Network


Institute for Critical Animal Studies


The Freire Project


Amnesty Int'l Human Rights Education


New York Collective of Radical Educators